Tuesdays were built for scouring the waiver wire. Thankfully for you, we're here to help make sure you're picking up the right players and, perhaps more importantly, dropping the right ones too.
Yes, dropping players is an important part of fantasy football. Don't be like me last year – I drafted Kelvin Benjamin and put up with his awful fantasy performances until NOVEMBER. Don't be like me. Be better than me, by taking my advice. Much like Anakin Skywalker, my powers have doubled since last year so you can trust me now!
Add 'Em
Phillip Lindsay – Running Back, Denver Broncos – 61.7% owned – 20-30% FAAB
If you missed the boat on Philip Lindsay last week, it's going to be harder to find him on the waiver wire this time around – but you might still be able to get him given he's only just over 60% owned.
An undrafted free agent rookie, Lindsay's impressive preseason has translated into scintillating regular season performances. He is now the first undrafted rookie to go for 100 scrimmage yards in both of their first two NFL games, and he earned more touches in Week 2 than any other Broncos running back. This is still something of a timeshare, but Lindsay is establishing himself as the surprise lead back in Denver.
Chris Godwin – Wide Receiver, Tampa Bay Buccaneers – 34.1% owned – 5-10% FAAB
You could make the argument that Tampa Bay are the most exciting team to watch right now in the NFL. With Ryan Fitzpatrick throwing touchdowns left, right and center – all of the primary pass catchers in that offense hold value. DeSean Jackson is worthy of mention here as well, but it's Chris Godwin that might hold the most upside after Mike Evans.
He is a physical specimen and has shown that he has all the skills necessary to eventually supplant Jackson as the No. 2 receiver for #FitzMagic. With an 80% catch rate on 10 targets, including two touchdowns, expect to see a lot more of Chris Godwin on NFL Redzone over the coming weeks.
Blake Bortles – Quarterback, Jacksonville Jaguars – 10.2% owned – 5-10% FAAB
Blake Bortles is Exhibit A, Class 101 of "Bad NFL Players Who Are Good In Fantasy". It's not an extensive list, but Bortles is the very personification of BNPWAGIF. He has been a punchline for most of his NFL career but hasn't finished lower than QB13 since been drafted as the 3rd overall pick in 2014.
Bortles is an underrated rusher, averaging 352 rushing yards at just over 6 yards per carry. He also has a tendency to find hot streaks during the season where he shows why he was valued so highly coming out of college. In Week 2 against the Patriots, Bortles threw for four touchdowns and 377 yards on his way to 32 fantasy points. He gets the Titans, Jets, and Chiefs in his next three games, which makes him a very viable streaming candidate at quarterback.
Austin Seferian-Jenkins – Tight End, Jacksonville Jaguars – 30% owned – 10-15% FAAB
Last year, ASJ was king of the 'almost-touchdown', having several touchdowns taken away from him as the so-called 'catch rule' made itself a weekly talking point. In moving from the Jets to the Jaguars, ASJ finds himself on a team that would appear to lack a clear-cut "redzone threat".
ASJ has already drawn 10 targets across the first two weeks of the season, and with the Jaguars defense destined for some (albeit minor) regression, Bortles will be required to throw more often than last year. ASJ is a prime candidate for a career year.
Cleveland Browns D/ST – 5.5% owned – 1-5% FAAB
The Browns are, in typical Browns fashion, still winless this year. However, after two weeks, the Cleveland defense has looked mean over the first two weeks. With a lineup that features Myles Garrett, Larry Ogunjobi and Denzel Ward, the Browns have picked up 3 interceptions, 7 sacks, and recovered 5 fumbles. 
Those are good numbers for any defense, and if I gave them to you without telling you that they belonged to the Browns, you'd be picking up the defense that posted them without hesitation. Pick up the Browns this week, no matter how wrong it feels.
Drop 'Em
Rashaad Penny – Running Back, Seattle Seahawks
There's a chance this is a little premature, but there's one thing that's very evident about Seattle right now – they are a long way from establishing a run game. Even more importantly, Pete Carroll is a long way from making rational decisions with his running backs. Chris Carson who was meant to be the lead running back for this team, barely played in the second half because he was "gassed from playing special teams".
Rashaad Penny hasn't exactly done much to wrestle the starting job from Carson, trundling along at 3 yards per carry against the Bears in Week 2. This backfield is one to stay away from – and definitely, one to move away from if you own a Seahawks running back.
Jamison Crowder – Wide Receiver, Washington Redskins
On paper, you couldn't dream of a better WR/QB scheme fit than Alex Smith throwing to Jamison Crowder. Smith won't throw to anyone who isn't open, and Crowder excels at creating separation in the slot. For reasons that remain something of a mystery, that connection just isn't firing.
Crowder has just 5 catches for 40 yards so far, and this lack of production on a team with a middling receiving core should worry you. Couple his production woes with an early bye (Week 4) and a string of tough defensive matchups after that bye, and Crowder can easily be replaced in a year where wide receiver is exceptionally deep.
Marcus Mariota – Quarterback, Tennessee Titans
Who knows what's going on in Tennessee? The answer is no-one. No-one knows what's going on, and with a wealth of startable/streamable quarterbacks available to you, Marcus Mariota shouldn't be on your roster.
Even before he picked up his elbow injury, he did not look good against Miami in Week 1, and despite Mike Vrabel's statements about both Mariota and Blaine Gabbert getting playing time in Week 2, Mariota never saw the field. Unless he sorts out his passing struggles, or at least regains some rushing form, leave Mariota on the waiver wire.
Eric Ebron – Tight End, Indianapolis Colts
Tight end is the most touchdown-dependent position in fantasy, so dropping Eric Ebron after two touchdowns in two games might seem counter-intuitive. The problem here is that, without the touchdowns, Ebron has 7 points this season rather than 19.
Again, most tight ends are touchdown or bust, but you can expect Jack Doyle to start catching more of Andrew Luck's touchdowns as the season goes on.
Eagles D/ST
The Eagles defensive line is among the best – and deepest unit in football right now. Unfortunately, their secondary doesn't live up to the same standard. After getting shredded by Tampa Bay, you can expect the league to take notice and start throwing on this Eagles defense.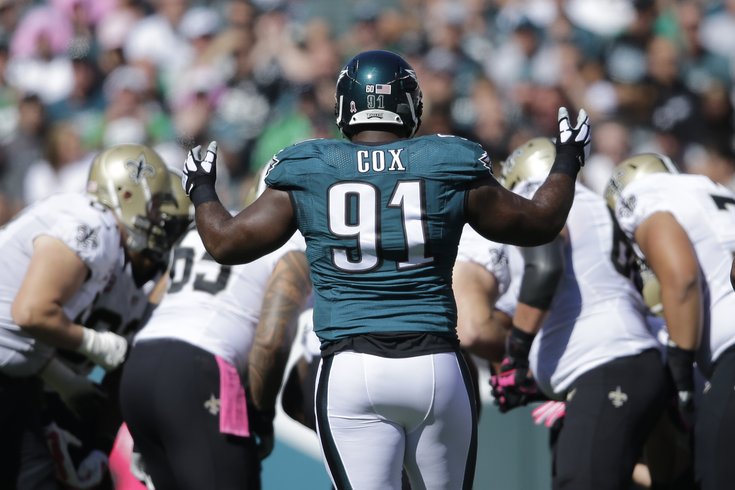 By Ben Barton @Ben_Barton