Now that the dust has settled after a crazy week 1, let's make sure you pick up the guys that can repeat their heroics in the coming weeks.
I'm keen to make the point that you should only be picking up players who can keep up their performances across the length of the season. Ryan Fitzpatrick for example, exploded in week 1 with 400+ passing yards and 5 total TDs. However, he will likely not start when Jameis Winston returns from his suspension.
I also want to make sure we are not overreacting to Week 1 blunders and dropping valuable assets. I will only be suggesting guys that have an ownership percentage less than 50% and have promise to be weekly contributors.
Add 'em:
Quarterback
Joe Flacco, Baltimore Ravens – 4.1% ownership, 5-10% of Free Agent Acquisition Budget (FAAB)
Joe Flacco destroyed the Bills defense and threw a TD to all of his new weapons, Michael Crabtree, John Brown, and Willie Snead. Reports out of training camp were that Joe Flacco was having the best camp of his career. He definitely showed the Ravens ownership that he is still their starting QB.
Honorable Mention: Eli Manning, New York Giants – 16% ownership; 1% of FAAB
Running Back
Jordan Wilkins, Indianapolis Colts – 39.8% ownership, 5% of FAAB
Wilkins received 64% of all the Colts' carries in Week 1, and had 3 of 12 total targets to a running back during the game. Wilkins has every chance to win the starting job in Indy, and if he keeps up this volume he will have 224 carries and 48 receptions over the course of the season. In fantasy – volume is king; so follow the numbers here. I do want to point out that the next few games might be rough as he plays the Redskins, the Eagles and the Texans one after the other; but season long, Wilkins could be pivotal for your fantasy teams.
Honorable Mention: Austin Ekeler, Los Angeles Chargers – 11% ownership; 8% of FAAB
Wide Receiver
Phillip Dorsett, New England Patriots- 4.7% ownership, 9% of FAAB
I've admitted I was wrong about Patterson, and accepted that Dorsett is the man to own in New England. He led all receivers with 7 targets and he caught all of them for 66 yards and 1 TD. In PPR formats, he should continue to provide fantastic flex numbers in this high-powered Patriots system.
Honorable Mention: Mike Williams, Los Angeles Chargers – 34.8% ownership; 9% of FAAB
Tight End
George Kittle, San Francisco 49ers – 37.1% ownership, 15% of FAAB
George Kittle had 27% of the target share against the defense that was rated number 1 against TEs in 2017. Kittle finished the day with 5 receptions and 90 yards. There are definitely brighter days ahead for SF's offense, which leads me to believe there is a lot of upside for Kittle. Be aggressive in acquiring him.
Honorable Mention: Jonnu Smith, Tennessee Titans – 0.2% ownership; 1% of FAAB and Jared Cook, Oakland Raiders – 27.8% ownership; 13% of FAAB
D/ST
Chicago Bears D/ST – 39.8% ownership, 5-10% of FAAB
The Bears nearly came out with a win in Green Bay, but Aaron Rodgers didn't let that happen. The main reason for their success is the improved defense. Look for this defense to score a lot more points as they face inferior offenses.
Honorable Mention: New York Jets – 0.8% ownership; 1% of FAAB
Drop 'em
Quarterback
Dak Prescott, Dallas Cowboys
In 2017, Dak's inefficiency was blamed on Dez Bryant. Well, that aged well. This is probably an overreaction but it's very difficult to imagine things get much better than this week. I would be surprised if Dak had a top 10 week in 2018. You are dropping him because there are more accurate QBs with better receivers and better offensive schemes. #FireJasonGarrett #FireScottLinehan
Running Back
Ronald Jones, Tampa Bay Buccaneers
This dude wasn't even active for the game. During the preseason, he had 28 carries for 22 yards. I understand he was selected in the second round of this years' draft, but the starting RB is very clearly Peyton Barber. This ownership % needs to dramatically fall going into next week.
Wide Receiver
DeVante Parker, Miami Dolphins
Even when Parker comes back, the man to own from Miami is Kenny Stills. I guarantee someone will pick up Parker after you drop him, and after 3-4 weeks they will end up dropping him too. He is not worth the hold when there are so many better WR options to pick up.
Tight End
Charles Clay, Buffalo Bills
I'm pretty sure every article I've written for ATFP includes jabs about how bad the Bills are, so why should this one be any different? This team is awful. Clay might improve his numbers with the Josh Allen, or maybe Nathan Peterman will bounce back, but I know I would rather all of the TEs I suggested above. They have better offenses in general and they will see a higher volume of action.
D/ST
Saints D/ST
When you allow Ryan Fitzpatrick to throw for more than 400 yards and 5 total TDs, there are some serious problems somewhere. I wouldn't expect things to be much different when the other division rivals come to town. Plus, the Jets and Bears look legit.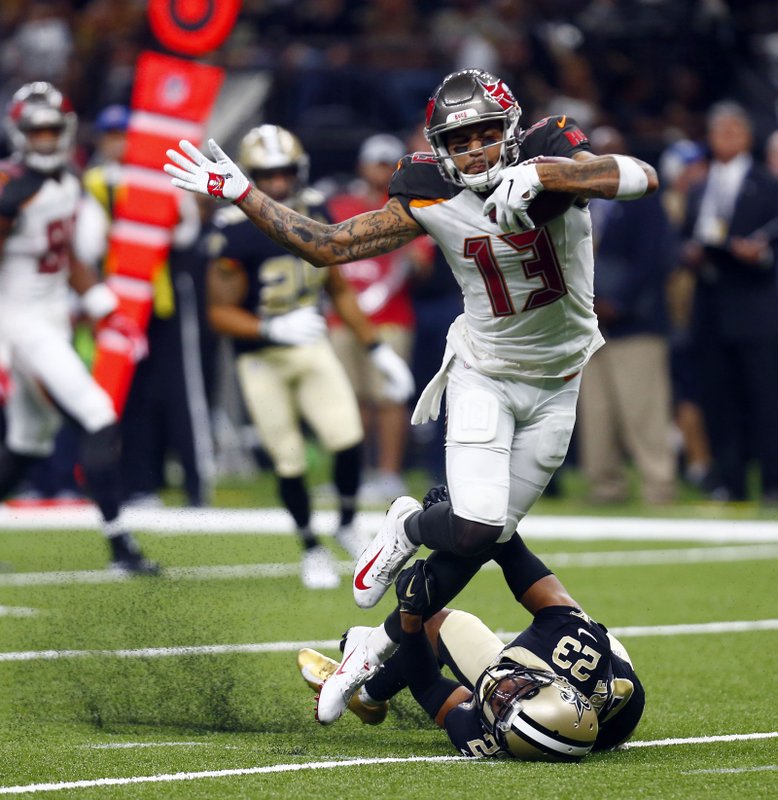 By Matty Daniels – @MattyD285